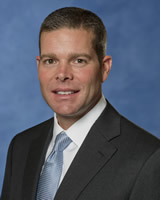 John D. Rainey is executive vice president and chief financial officer for United. In this position, Rainey is responsible for the overall financial operations of the holding company and its operating subsidiaries, including corporate finance, treasury, financial planning and analysis, tax, accounting, investor relations, fleet, procurement, internal audit and risk management.
Prior to this position, Rainey was senior vice president of financial planning and analysis overseeing United's budget and forecast, capital plan and financial analysis. In this capacity, he also was responsible for investor relations, as well as the enterprise optimization and continuous improvement groups.
Rainey served as vice president of financial planning and analysis for Continental Airlines from 2005 to 2010. In this role, Rainey was responsible for Continental's budget and forecast, financial analysis, investor relations and the division controllers. Rainey also held various positions in the profitability analysis, international finance and financial planning and analysis departments while he was with Continental.
Prior to joining Continental, Rainey worked at Ernst & Young LLP in Houston for two years.
Rainey received both his bachelor's degree in business administration and master's in business administration from Baylor University. Rainey is a Certified Public Accountant. He is married and has two children.
Rainey serves on the March of Dimes National Board of Trustees and is serving his second term on the CNBC Global CFO Council.